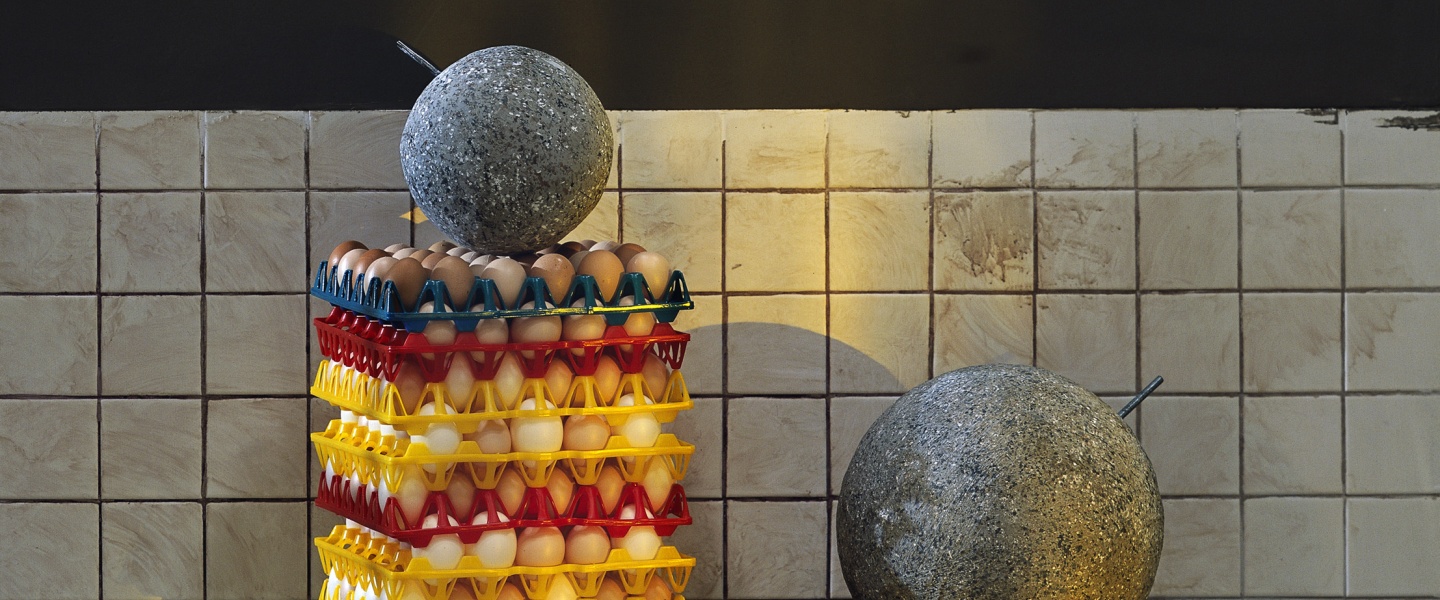 ---
| | |
| --- | --- |
| Exhibition: | Chen Wei: Goodbye |
| Duration: | 2019/09/07–10/20 (Tue.-Thur. 11:00-18:00, Mon. Closed) |
| Location: | 1/F ShanghART Shanghai, Bldg.10, West Bund, 2555 Longteng Avenue, Xuhui District, Shanghai, China 200232 |
ShanghART Gallery is pleased to present Chen Wei's solo exhibition "Goodbye" from September 7 to October 20, 2019. This exhibition extends the main theme of his previous show at ShanghART Beijing, 2017, showcasing his latest photography, installation, and stage set installations.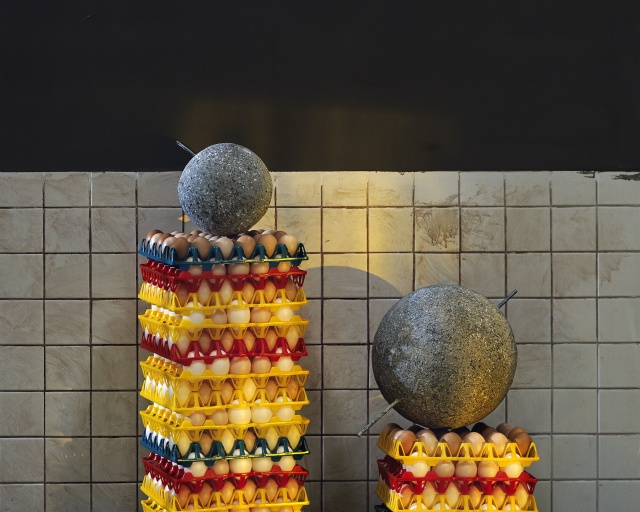 CHEN Wei
Stones and Eggs
2019
Archival Inkjet Print
80(H)*100(W)cm
"New City" is Chen Wei's ongoing project since 2013; continuing this project, "Goodbye" depicts and represents some moments about leaving and separation in "new city" by the means of photography and installations. As two chapters of this project, these two exhibitions interpret reality and imagination about transiting city based on personal experiences of the creator. Chen Wei's works start from building life-sized stage sets; he juxtaposes double spaces to extend the on-site feeling: one unit is dim, while the other is luminous. With the absence of inhabitants, the theatrical stage infuses the "white cube" space with an unstable temporality, then constructs a scenery from the blurry boundaries between the illusory and actuality.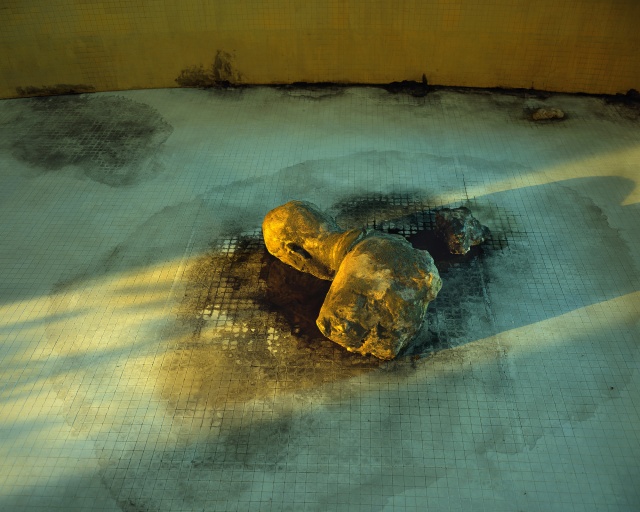 CHEN Wei
A Stranger
2019
Archival Inkjet Print
150(H)*187.5(W)cm
Seizing the flashes of living traces within the urban metabolism, Chen Wei uses photography as the medium to represent the changes of external environments we confront: a damaged basketball field, a bust fallen to the ground, ice melting on the stairs, beverage spilling on the platform, unbroken eggs under the stones etc.. Not limited to the binary attributes of personal or public spaces, these easily recognised life objects carry a special narrative. Human figures, rarely seen in "New City" project, make an appearance in this exhibition with body gestures that indicate an absence of certain personalities. Meanwhile, the "Brilliantly Lit Lights" is flickering,
with its function removed, while the stage set installation behind the wall – "Goodbye" reproduces a living space suspended in time: the dim yellow light leaking from the half shut rolling door washes over the empty room, a mobile phone still connected to the charger… Chen Wei captures and rebuilds a sensory theatre after curtain call, like an unfinished suburban construction site, hollow and difficult to speculate its destiny.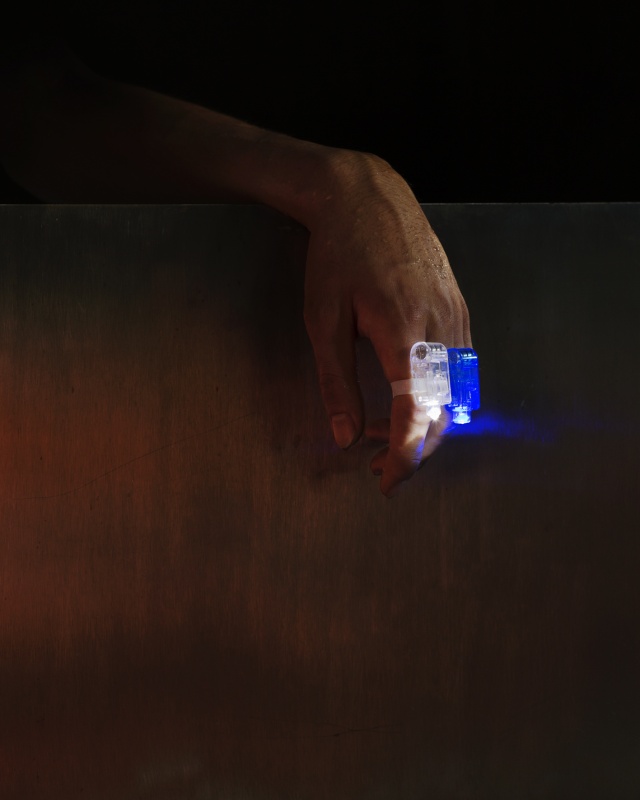 CHEN Wei
A Stranger
2019
Archival Inkjet Print
150(H)*187.5(W)cm
Chen Wei (b. 1980, Zhejiang), lives and works in Beijing. Initially a sound and performance artist, Chen Wei's interest developed into photo, video and installation art. The artist has exhibited extensively at institutions and biennales in China and all over the world.
Recent exhibitions include: Chen Wei: Drifting Along, Büro Basel, Basel, Switzerland (2019); Chen Wei: Where Are You Going Tonight, chi K11 artspace, Guangzhou (2018); Chen Wei: Falling Light, Galerie Rüdiger Schöttle, Munich, Germany (2018); Witness, Chen Wei etc., Pilar Corrias, London, UK (2018); The Club, Centre for Contemporary Photography (CCP), Melbourne, Australia (2017); Noon Club, programmed by Francesco Bonami, JNBY Art Space, Hangzhou (2016); In The Waves, chi K11 Art Museum, Shanghai (2015), The Stars in the Night Sky are Innumerable, Australia China Art Foundation, Sydney, Australia (2014) etc.
Chen Wei was awarded the Asia Pacific Photography Prize in 2011, and was a nominee of the Prudential Eye Awards for Contemporary Asian Art in 2015.