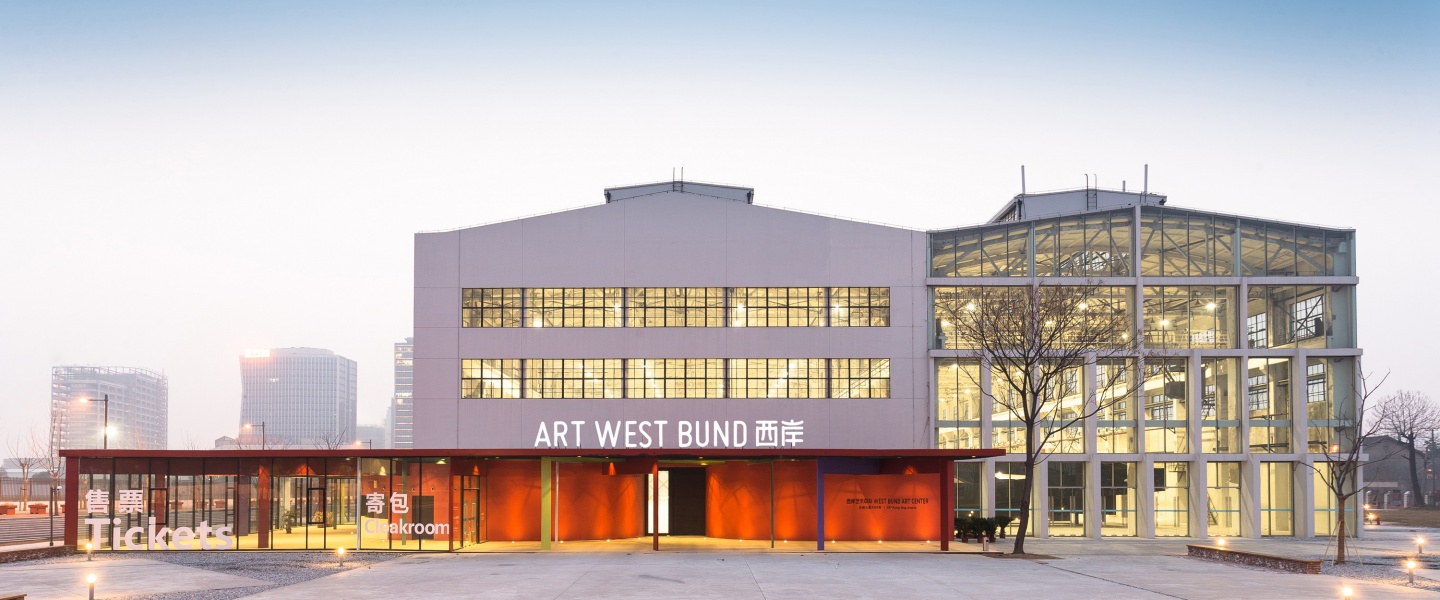 The West Bund Art Center is located in the old Shanghai aircraft factory at 2555 Longteng Avenue. It was renovated and designed by Liu Yichun of Atelier Deshaus. With a total construction area of 10,800 square meters, in addition to the two floors of the main exhibition space, there are VIP meeting rooms, lecture rooms, exhibition staircases, parking lots and other functional areas with complete supporting facilities.
Situated in the core of the "West Bund Cultural Corridor " in the Waterfront Area of Xuhui District and covering a total construction area of 10,800 square meters, the West Bund Art Center has Longteng Avenue at the east and is adjacent to Yunjin Road in the west. The Art Center is currently divided into two main exhibition spaces on the first and second floors, with the total porch area reaching 8,600 square meters. The functional areas include meeting rooms, lecture rooms, exhibition staircases, parking lots, etc. The VIP room is fully equipped with supporting facilities and the surrounding traffic is convenient with various metro lines available. Therefore, it can satisfy the needs for different types of exhibitions, performances and other large-scale cultural activities.
As one of the essential carriers of cultural activities of West Bund, the West Bund Art Center plays a vital role, providing the platform for many brand activities, major government events and attracting quality cultural activities such as cultural art, technology innovation, artificial intelligence, design and fashion that meet the overall development requirements of the West Bund Scheme. The gathering of industrial resources has helped the development and construction of the West Bund as a whole. Also, Shanghai West Bund has been officially awarded as one of the first places for the global product launch in Xuhui District in 2019. Since its operation in April 2015, Hall A has undertaken a total of 68 events, including 10 brand events such as the West Bund Art & Design, 7 government events such as the World Artificial Intelligence Conference, and 51 marketing events, for example for DIOR and Lexus. The event types mainly include cultural exhibitions(including branding events), launch of new products, runway shows, summit forums, etc. Nine industries are covered, such as art, luxury goods, technology, automobiles and the Internet, etc.
| | |
| --- | --- |
| Address: | No. 2555, Longteng Avenue, Xuhui District, Shanghai (near Fenggu Road) |
| Tel: | 13023197043 |
| Consultation time: | Monday to Friday 9:00-17:00 |
| Rental(AB Hall of West Bund Art Center): | events-2555@shgqc.com |