Venue:

West Bund Museum
Address:

2600 Longteng Avenue

Open time:

Hall on second floor 10:00-17:00(16:00 stop entering),closed on

Monday

First floor、B1 10:00-22:00

Business services such as bookstores, cafes, restaurants, bars, etc. along the Yangtze River are open as usual on Monday
West Bund Group (Shanghai West Bund Development Group Co., Ltd. in full) today announced that West Bund Museum, will officially open its doors to the public on November 8, 2019, signifying the formal launch of the "Centre Pompidou x West Bund Museum" project between the West Bund Group and Centre Pompidou in Paris.
"Centre Pompidou x West Bund Museum" project is Centre Pompidou's first cooperation project in Asia, it is also within China the first-ever attempt to co-run a cultural institution with a top-notch foreign art museum. Within the next five years, based on collaborations of both parties, West Bund Museum will have 3 semi-permanent exhibitions of at least 18 months, and about 10 feature exhibitions of 6 months; at the same time, Centre Pompidou will have 3 exhibitions focusing on China's contemporary art;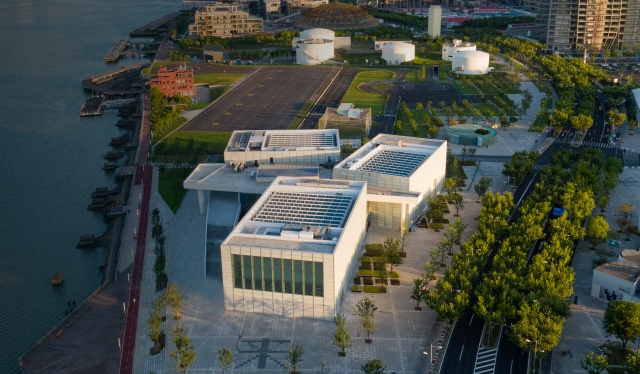 West Bund Museum was designed by the famous architectural practice British architect David Chipperfield, and it was a work of three years. Beside the three main gallery volumes committed to host works of permanent and themed exhibitions, the 25,000m2 establishment also contains a "Project Room" and a lower ground floor that comprises three functional spaces – Auditorium, Box, and Creative Gallery (Playground, Children's Workshop and Studio).
West Bund Museum is committed to commonality and internationalism as its starting point, seeks to break away from traditional patterns and conventional boundaries of art museums, and invites diverse audiences to participate in the cultural experiences of modern and contemporary art.