Legends: Chua Soobin's Photographs and Twentieth-Century Chinese Art Masters' Paintings
Long Museum(West Bund)
---
Exhibition:

Legends: Chua Soobin's Photographs and

Twentieth-Century Chinese Art Masters' Paintings

Duration:
2019.07.13 - 2019.08.25
Address :

Gallery 2,Long Museum West Bund

3398 Longteng Avenue, Xuhui District Shanghai
Legends: Chua Soobin's Photographs and Twentieth-Century Chinese Art Masters' Paintings will open at July 13, 2019 in Long Museum West Bund. This exhibition is the first themed photography exhibition since the opening of the museum. Juxtaposing the photo portraits with the paintings, the exhibition experiments with a new curatorial decision.
The photos in the Legends collections were taken in the late 1980s. Chua Soobin documents the late-age images of 14 Chinese painting masters including Zhu Qizhan, Liu Haisu, Huang Junbi(Huang Chun-pi), Zhao Shao' ang(Chao Shao' ang), Chen Wenxi(Chen Wen Hsi), Wang Jiqian (C.C. Wang), Li Keran, Ye Qianyu, Wu Zuoren, Lu Yanshao, Xie Zhiliu, Li Xiongcai, Tang Yun, and Guan Shanyue. The images are published in the catalogue Legends.
The creative motivation for the collection originates from Soobin's devotion in expanding the influence of Chinese culture. He has got acquainted with many Chinese artists while working. The charm of the artists and their works fascinated him.As a Chinese-Singaporean, he eagerly hopes to remember the masters' images through photography. In order to make the collection better, Soobin has thoroughly researched these masters' artworks, collected related materials, and studied the masters' interests. He also travels among China, United States of America and Europe to capture the most casual and lively moments in these artists' lives.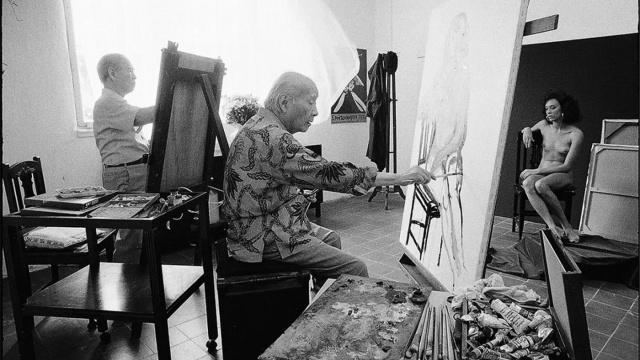 Liu Haisu. The quiet of the studio makes one feel that the human body is sacred. This scene of Liu Haisu and Liu Kang sketching a model In Singapore in 1987 recalls the old controversy of nude models in the art academy in Shanghai.
Liu Haisu, Snowscape (Luxembourg), Oil on canvas, 72×60cm, 1931, Long Museum
Huang Junbi (Huang Chun-pi). Huang lets his wife Rong Xianyu discuss his paintings with the guests while his own thoughts drift, perhaps, towards tomorrow.
In 2019, Long Museum is honored to accept Mr. Chua Soobin's donation of Legends collection that includes 84 portraits of Chinese painting masters, and we immediately decide to share this precious collection with the public. In addition to 84 portraits (14 groups), we have organized more than 10 groups of works by these artists from the museum's collection, and borrowed several artworks from related organizations and institutions.We hope to juxtapose 14 groups (6 portraits in each group) of these masters' portraits with their artworks.
The photos reveal the masters' everyday life; the paintings illustrate the masters' artistic achievements.The combination enables the audience to attain a more comprehensive understanding of these masters. Though they experienced different lives and explored various path in art, they all practiced Chinese painting, explored the essence of Chinese culture, and contributed to the development of Chinese art. Their artistic achievements and their later-year images will always remain in history, directing and encouraging Chinese art to move forward.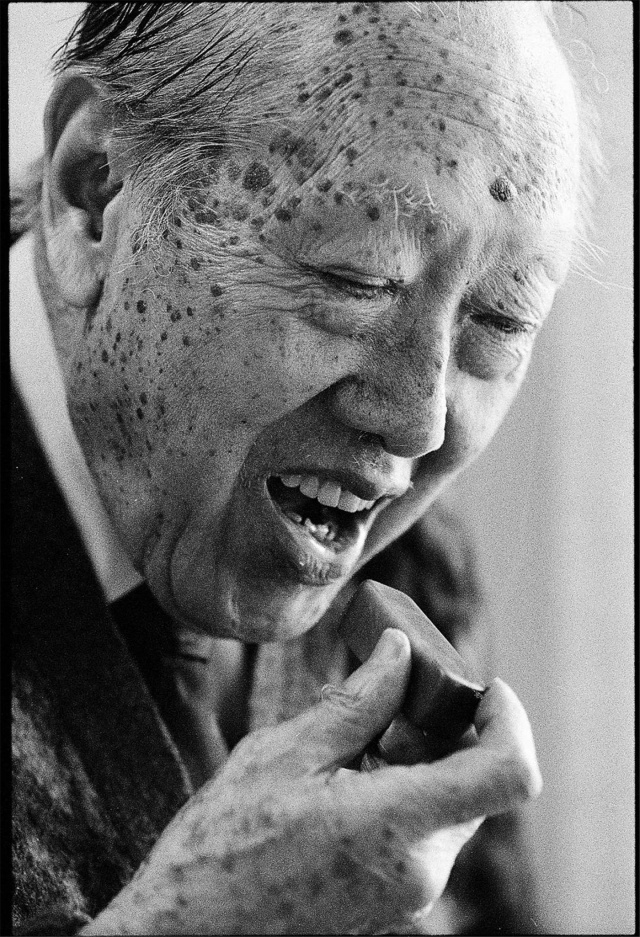 Zhao Shao'ang (Chao Shao'ang). Who says we age too quickly and art remains forever young? With this breath, he will leave yet another bright red seal mark in his journey of art.
What's more, Legends: Chua Soobin's Photographs and Twentieth-Century Chinese Art Masters' Paintings starts the 2019 photography exhibition series in Long Museum. This exhibition will be followed by Jean-Luc Mylayne: The Autumn of Paradise in August andCheng Tsun-shing: Firefly and Light in November. In 2019, Long Museum will be more active in exhibiting photography with more diverse perspectives. Both photography and painting visually inspire people to sense and meditate about the world. In the future, Long Museum will become more open to engage with different forms of art, contribute to the development and communication of contemporary art, and to present more inspiring exhibitions to the public.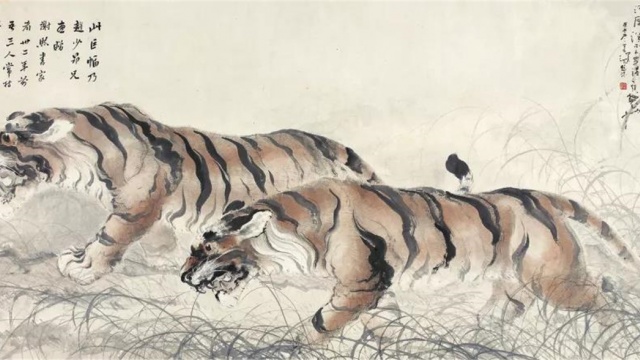 Zhao Shao'ang(Chao Shao'ang), Tigers in the Grass, Ink and colour on paper, 99×244cm, Long Museum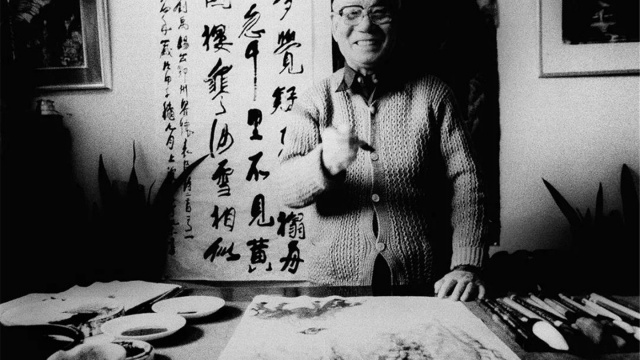 Li Keran. With a brush in hand, he's as happy as a monk with his cloth bag. "How free I am, having set my bag down" is the reason that the old artist feels at peace.
Wu Zuoren, Rose, Oil on canvas, 50×40cm, 1934, Long Museum.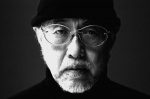 His most significant work Portraits of Excellence featuring 14 great Chinese artists was completed in 1989 when he mounted an exhibition at the Singapore National Museum with the launch of a book (in Chinese) of the same title, which was the predecessor of Legends: Soo Bin's Portraits of Chinese Ink Masters. The exhibition has since travelled to Hong Kong,Taipei, Beijing, Shanghai, Shenyang, Hangzhou, Xi'an and Guangzhou; the book was revised and republished in 2006 in Chinese and English, both of which have with the present publication gone into their second edition due to the increasing popularity of the photographs over the years. Between 2005 and 2011, the exhibition of his opuses went on to tour Chongqing, Shenzhen, Chengdu, Kunming, Guiyang, Shanghai, Hangzhou and Singapore. His works have been collected by the Singapore Art Museum, Hong Kong Museum of Art, Lingnan Memorial Museum,National Art Museum of China, Shenyang Museum,Shenzhen Art Museum, Sichuan Fine Arts Institute, Guangdong Museum of Art, Guiyang Art Museum, Yunnan Art Museum, Liu Haisu Art Museum and Zhejiang Art Museum.。
How to get there
Related venue/project more...